This has been an ongoing project for a few years now, mostly because of the frustrating lack of information on the interwebs about these elusive creatures. Things are starting to happen now so thought i would put this out there, who knows, might help someone, or you can just skim though and look at the pictures
its a bit of an epic so ill just do a little bit at a time when i have the chance until caught up.
The tale starts when i went to pickup parts for another machine in deepest Bristol, got chatting to the chap about repairing a powerfab (different machine) and he says come with me... shows me a tracked powerfab burred in a container, wasnt wanting another but was a fair price, totally unseen at this point. I go home (800 mile round trip) and get thinking, few messages about the machine and i say ill come have a looksee. Cue another 800 mile round trip.
Here it is in all its mossy glory, first thing that struck me was the name on the side, very clearly a 1200XD not 1000 as he said. Wouldn't of been a problem, more digger for the money, except the weight difference and my trailer! Cant find any information about this model so we figure its probably about 1200kg, right on my trailers limit. Think this was more wishful thinking than the truth but was loaded anyway, and kept an eye on the suspension units.
One cautious drive home and all's good
One garage full of powerfabs, i dont have a problem, honest
First repair was the exhaust, in order to make the exhaust fit in the engine bay there is a factory made box thing that changes its direction, but the welds had rotted out.
Had the bright idea of making a 3d printed template for the plasma cutter, just trace around it, sort of worked but needless to say it got a bit melty.
plasma the big holes and the small ones are drill guides. Not perfect but good enough for an exhaust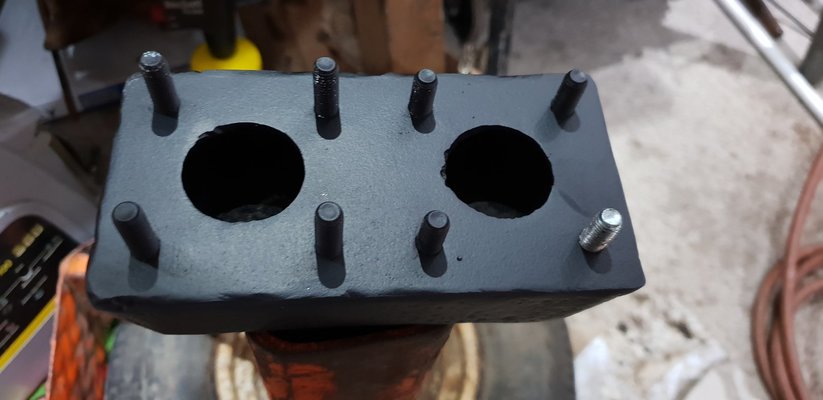 Welded back together, not sure why there is a shiny stud looking back at that picture.. was 2 years ago.
All sorted and used the machine to level a bit of garden for a container to clear the garage of broken digger bits, now it wasn't the quickest machine but really struggled in the mud, then something went bang
and that was the start of the next 2 years of repairs. tbc