Got fuel sender attached to the plate and cut a gasket.
Made a slight error with my measurements! Measured the height of the stud and cut the pipe accordingly. Forgot to add the 6mm of steel plates and 3mm of gaskets
Easy fix though, just put a plastic cap over it..
Gave it a test, not accurate in the slightest but good enough
can maybe add a trim pot later.
Steel arrived for the King pin, 300mm length of 55mm en19 black bar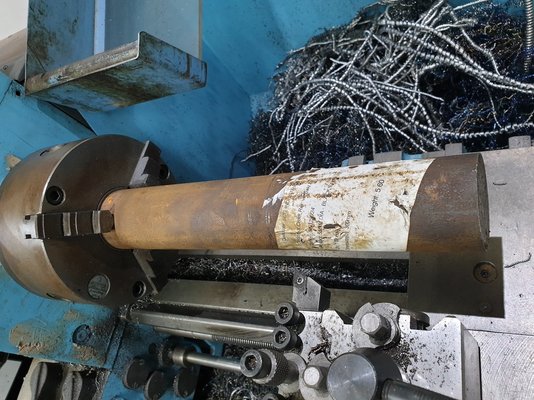 bit hairy center drilling it, not too much wobble but a lot of stick out.
Few passes and its not going well! Vibration is a big issue, not entirely sure ill manage this on this machine. Gave up last night after multiple variations on speed feed and depth, found if I take literally microns I can smooth out the ripples.
Going to try rotating the tool post so I can get less stickout of the tailstock quill, also ordered smaller nose inserts.
Using dcmt 11t308, try 04. All else fails the old pin and bushes are getting kept (not removed bushes yet) and can look into it again at a later date. Not an urgent job, just a seeing as its apart job