Messages

8,242
Location

Don't ask questions
As promised.
I posted a thread about the damaged/wonky taper when I got the drill (2016) and was told the only real solution was to re-grind the taper. I didn't have a cylindrical grinder at the time so I knocked the chuck to somewhere near centred with the precision club hammer.
That's the taper, deep scores around and along it (I think that's the good side too) and it's not straight. I think the chuck is knackered too, there's similar scoring in the taper and some pitting on the body but the jaws don't look too bad. I'll keep an eye out for a new one anyway.
Enter the bad idea I mentioned in the stuff you've made thread;
A horizontal mill looks a bit like a surface grinder doesn't it.
I made up a couple of lightly dished washers to hold a grinding wheel securely, thinking of a setup something like this: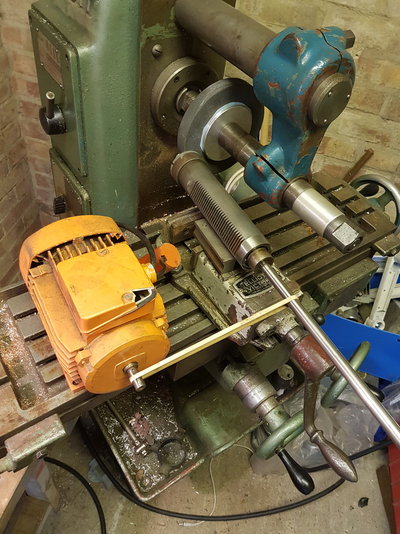 The whole quill clamped on a vee block set to the taper angle, slowly turning the spindle with the orange motor. It's turning in it's own bearings so should be perfectly centred and seemed sturdier than attaching a die grinder to my toolpost and doing it on the lathe.
Only problem is it's terrifying.

I held a chipped carbide insert in the vice to use as a dressing stone and started truing it up, face shield, long sleeves, mother on speed-dial.
The wheel's rated for 3600 RPM and the mill only goes to 1700 so it
should
be reasonably safe, I was going to finish it tomorrow but it occurred to me as I was typing this, the taper probably isn't particularly hard so doesn't strictly need grinding.
I'll check it with a file tomorrow and hopefully do it on the lathe.