Messages

4,682
Location

Near to Cross Hands Llanelli SouthWales GB
Why the extra loop on the termination?
That picture of the loop back was the first attempt at swaging several days previously .
I put four holes in the slug of Alu intending to cut it in half diametrically so there would be two halves of two holes. After breaking the drill bit due to stock rotating in the four jaw chuck I realised there was an easier way with less chance of drill breakage .
So having successfully drilled two slugs with four holes & not yet having cut them in half , I decided to use them on one of the wires ( the top wire at both ends ) so as not to the waste material .
I wasn't sure that one slug at each end cut diametrically to give only two holes would be sufficient to keep hold of the plastic covered wire on hot days , so I threaded it back on itself and then belted the thinnest areas on my girder anvil with a 2.5 lb engineers hammer
Right end facing the bungalow with both stainless steel turnbuckles on place
What it's starting to look like .. snivelling miserable back pain stopped play for the day , rain cancelled it today
I knew there would be a fair bit of tension & weight on the wires .. So I set them in the wall blocks a foot or so from the wall ends on 16 mm expanding passivated anchor eyes .
Seeing how good the local Welsh ( all recent ex coal miner friends out the local open cast mine ) builders were when they built this their second bungalow in 1987 . There is no way I was or am going to risk drilling &/or hammer vine eyes in the mortar joints , for I discovered that in several cases it was only the pointing holding the blockwork in place as no one seemed to have buttered the full block ends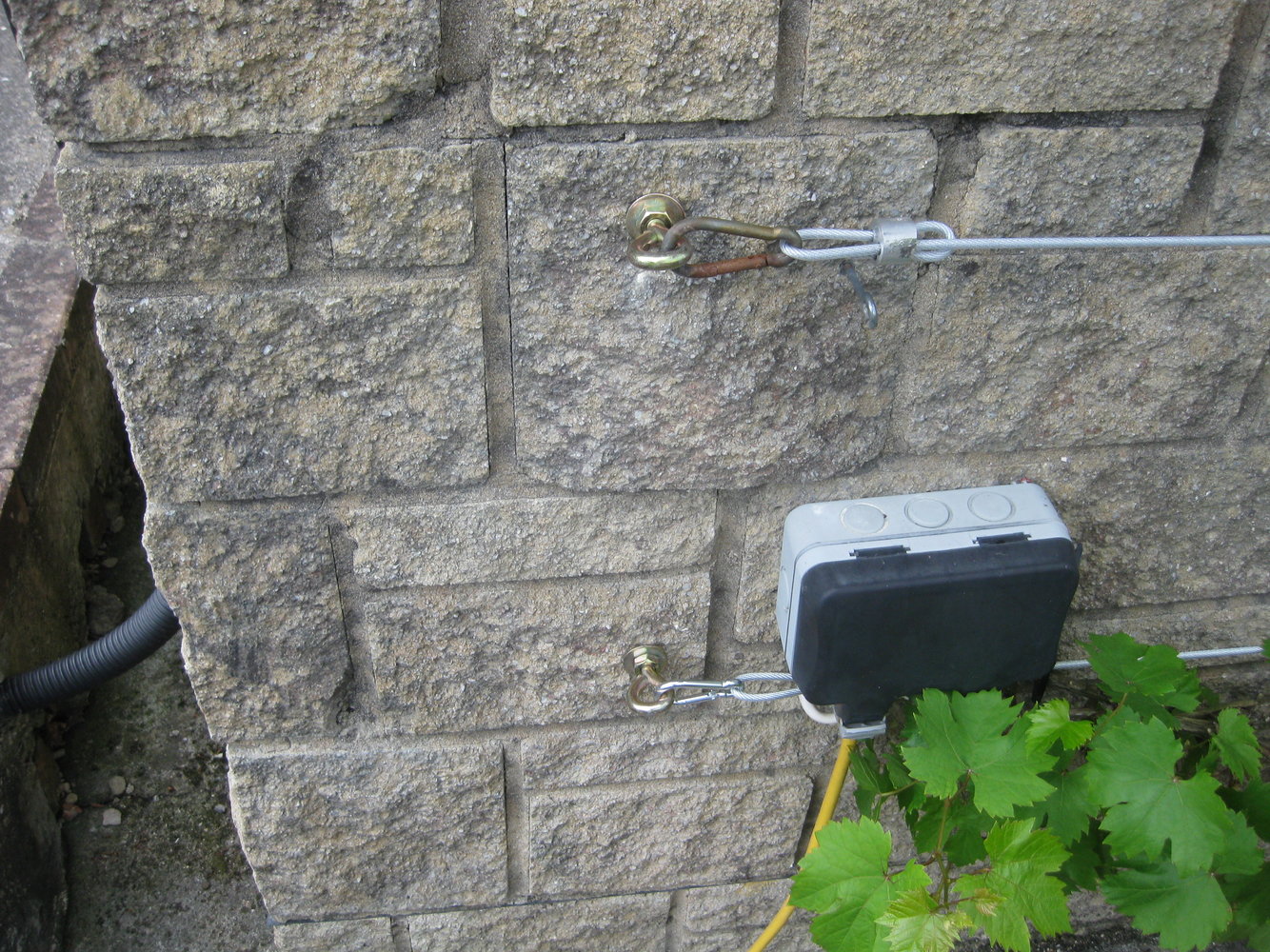 The ring sleeve is much better in my opinion , time will tell which way is best.