Messages

14
Location

Essex, UK
Last year I'd just got the house to the point where it was 80% finished (100% finished in bloke terms), and then my partner and I had twins. I'm a car guy, and had a shared unit on a farm for cars and fabrication, but the 30 minute trip clearly wasn't going to work with babies at home. I figured out a budget for the build assuming I would stay at this house for X years and set to work building a shed in the garden.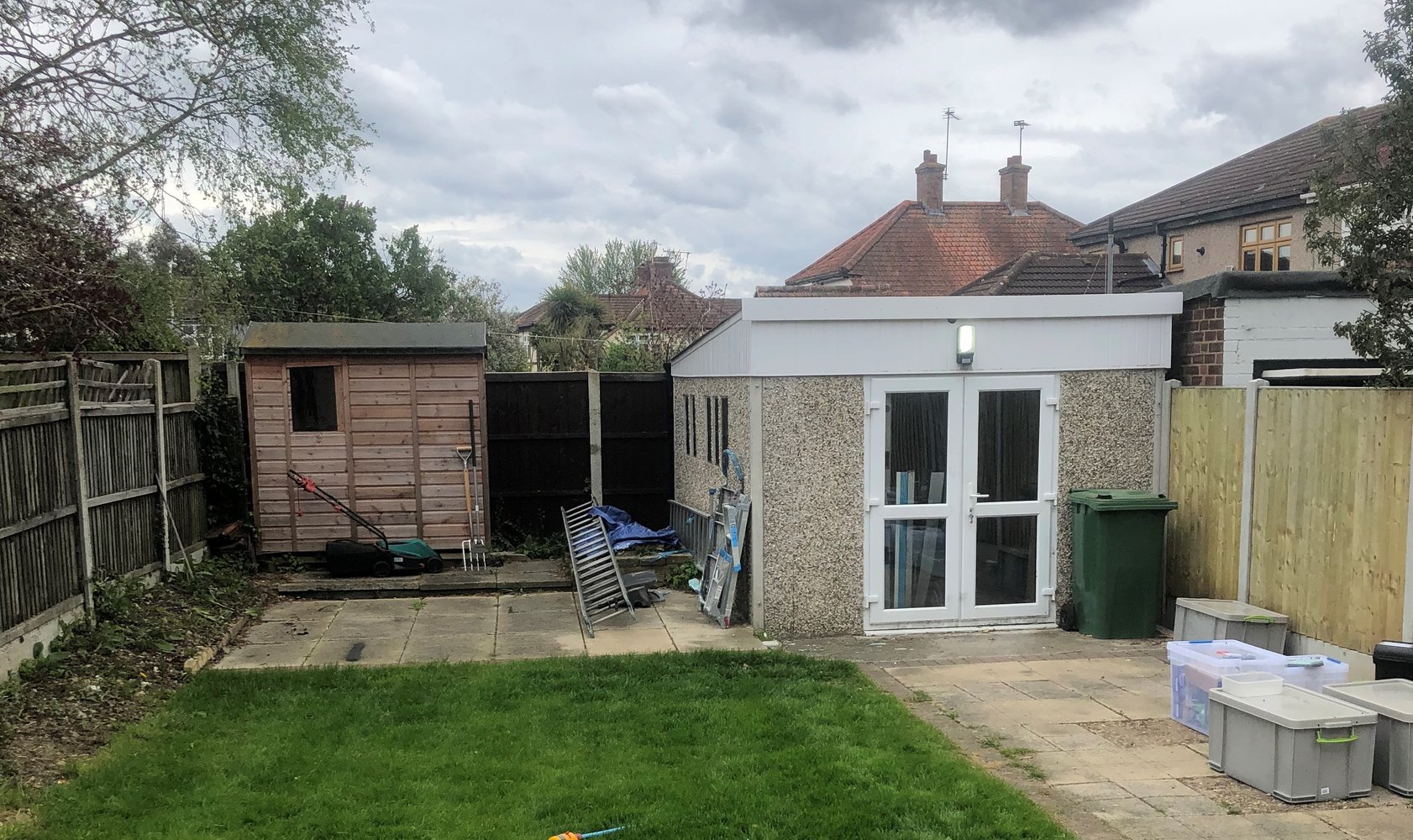 This was the starting point, the old concrete modular garage, a small shed, and under the tarp was what seemed to be some giant redwood stump. The pre-fab garage was gifted to a friend, although I'm not sure who this benefited more, probably me, and then shed I moved next to the house to jam all my home tools in.
I kept plenty for smashing up as hardcore, then dug everything else out and put it into eye wateringly heavy skips. It was raining most of the time and I'm amazed the lorry could pick them up. I dug down for a 6" slab + hardcore thickness. Smashed up what I had with a sledgehammer, which almost killed me, and then ordered type 1 to fill up the rest, blah blah, same old stuff.
DPM, rebar, and then it was time for my first ever slab pour... It was a lot of concrete, 7 cubes I think, big girl. The most stressful thing I've ever done. Main road blocked, lots of rain, broken pump truck, everything went wrong.
Obviously after watching youtube I thought I'd be able to get a mirror finish to this thing, but unfortunately it hammered it down, and the power float I'd rented couldn't get used so I guess we'll never know... I did manage to bull float all of it, and got a reasonable finish for a shed.
Slab was dry, and I laid three courses of bricks down. The shed would be timber, sheds are timber, but the bricks served two purposes.
- Keep bottom timber off the ground to prevent rot
- allow me to backfill one side level with the neighbours garden so I could increase maximum height.
This was relatively good fun, I hadn't done it before, but its quite satisfying. Certainly didn't have a traders speed... but the quality was ok. Now onto the exciting stuff.
I started putting the walls up built in modules. Reason being I couldnt get access to the pieces in the picture above when built to clad, so they had to be totally built and errected. The cladding was cement hardie board, so zero maintainance, and meant that the building wasn't classed as flammable from a building regs stand point. The construction was stud, 18mm osb, vapour barrier, baton, board.
Shed walls up! and a big beam you can see in the middle. The beam was so I could essentially have two flat roofs, but keep the joists 6" to maintain good ceiling height. I also like the vibe of a gable end. The calculations allow for all the usual snow etc, not that I needed to show anything for this build anyway.
Bit of a grainy one! sorry! Friend helped me get the cladding on, the long pieces weren't really a one man job. You can also see the PIR insulation going inside. 70mm to allow a 30mm air gap. I know these aren't ideal when you look at regs, but this is outside of regs, and I was in a attribute trade off with floor space etc.
I bought one of those cheap spray guns from screwfix, wow. You can get so much paint on a surface, painted the walls and ceilings white, fancy blue boarder on the bricks, and the floor is done with some epoxy stuff. I don't rate the floor paint, last time I used epoxy floor paint I was hallucinating but this stuff did nothing at all, and hasn't been holding up too well, I'm sure those two things are related.
The lights make the shed, they're the 6500k panel lights from toolstation in the cheapest ebay mounts I could find. They give a shadowless daylight in the whole place which you cant really achieve with anything else. They were ~£25 at the time I got them, so worth the investment. I'll be taking them when I move...
Did the rest of the wiring, 16A feeds for the compressor and welder output above where the bench would go. Sockets on every wall. And even a socket outside! What a life. It's just a 10mm cable from the house on a 40A breaker, but everything is protected properly in its own consumer unit. Since it's just me in there, I never trip anything.
Here's the front done. Light with a proximity sensor so I can find my way there at midnight.. You can also make out the roof. I went for a EPDM rubber roof kit which was really good, simple to buy too. Then some plastics to ponse it up a little. Doors are also done in here, I made them from stud, fibreglass insulation, then shiplap.
That's it folks. There was a lot of moving around, scary house much you accumulate with an interest in fabrication. If I do anything shed specific I'll try and update in here, but I'll pop some threads up of my other exploits. There's one on the welding bench I put together, and will get my meddings up when I've progressed it a little further.
If you're interested in moving pictures, I do have youtube channel where I like to make unsuccessful mega niche videos for fun. Here's the garage build one, you can see what the original gaff looked liked. There's plenty of fabrication stuff on there though, motorsport orientated.
Cheers, Alex