Messages

8,304
Location

Don't ask questions
Never been one to finish a project before starting the next.
This will be a quick one, I promise.
Here's how it looked when I got it;
Motor rewired for 230v operation, couldn't be bothered to wire it properly, just borrowed the cable off my drill and hooked it up, it's only temporary...
Mostly seems to work okay, it's all a bit stiff, locks don't lock as well as I'd like but nothing seems broken. I wung a four facet grind on a drill, not perfect by any means but it flew through the first chunk of rusty steel I could find, far better than I can do by hand anyway.
And with that, the taredown began.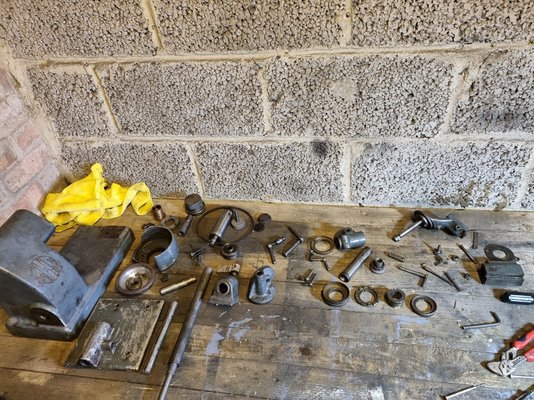 There's *a lot* of bits in that workhead!

The plan is to get it reassembled ASAP while it's all still fresh in my mind.
It cleaned up quite nicely with Muc-off and a toothbrush, the original paint is in pretty good condition overall, just quite heavily chipped. In the interest of saving time, I'm not stripping the old paint off, just filling the chips and painting over the old paint.
Typing this up while the first round of filler cures, probably ready for sanding now.