Messages

2,701
Location

Antrim Northern Ireland
Bit of an update.
I can confirm that a ball joint boot works very well and although they are a different design I think they are better than the original.
I got them on ebay for not much (19 x 28 x 16 if the link doesn't work)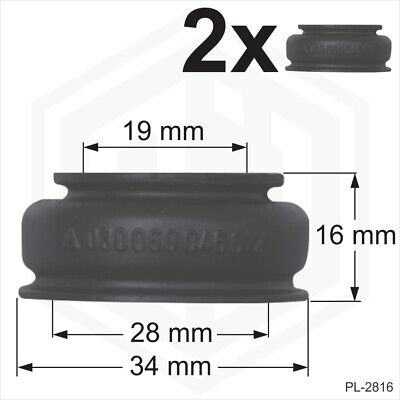 19/28/16 19x28x16 mm. High Quality Rubber. Bottom: 28 mm / Large Hole.
To install the boot, I needed to make a puller to remove the alignment bush.
And a punch to reinstall the alignment bush after the boot and rubber coupler was fitted.
Before I can go any further with this I want to install the prop and check for runout, (I don't want to get it balanced and find it's assembled incorrectly) but before I can do that I need to install the engine and gear box and before I do that I wanted to clean up the alloy bellhousing and to do that I needed (of course) to make a vapour blaster.
So for now the checking of the alignment and balance of the prop is stalled and I've started on another project that will probably not get finished either.
I worked on a few other jobs on the list, like undercoating the bonnet.
Because of the state of it I use the Jotun 90 as a high build primer sealer.
It's not recommended for that application but it works for me. It is harder to sand than most other primers but I think it's worth the effort for the protection it provides.
It goes on a bit "peely" but that's ok because most of it will be sanded off anyway.
The intention was to leave this a couple of weeks before sanding to make sure it was well cured.
To make room for the Vapour Blaster Project, I moved the bonnet outside and hung it on a frame.
Of course the inevitable happened and a gust of wind blew it over and as a result I'm further back than ever with 3 or 4 nice dents to beat out.
I didn't take photos because I was too busy saying bad words.
I huffed for a while but eventually I got the bog out and fixed them.
I also filled the front wing I welded longer ago than I care to remember.
I gave them the Jotun treatment with a few other bits and hopefully I won't drop them again.
Also removed the rack and installed new track rods, trackrod ends and boots so another job off the list.