Hi,
I'm not sure what these things are called but a 'Weights Tree' seems a reasonable name to me. It's an 'A' frame designed to hold a number of dumbells, to stop them rolling about the floor of my 'den'/computer room/gym...
I started off with some old bits of market stall and off-cuts, and joined them together with 20mm box inside to get the right leg length. Then I trimmed the tops at an angle so they'd take the smallest weights at the top considering the diameter of each weight...and also bearing in mind the maximum height that I could get under my shelves, and also the total width as I wanted to place my abflex roll-up thingy around the weights when it wasn't in use.
So I had a few things to consider in the design of it...
The basic 'A' frame before I'd added the cross bar stiffeners at the top and bottom.
next I thought about the hooks that the weights would sit on. On the market stalls I usually made square hooks and that was my first thought here. Two pieces of 20mm box welded together with a bolt to act as a pusher. Then two other pieces of 20mm box on a flat plate. The distance between them was set by placing the 'pusher' and two pieces of 25x3mm flat inside and welding around the outside edge. After setting it all up in the vice with a piece of 25x3mm around 90mm long, it just needed a few turns of the handle and I had a 90 degree shaped piece.
but I decided that this wasn't too nice, it needed to be round. So I found a bit of pipe, the wall wasn't quite thick enough so I welded a 20mm box inside to stiffen it, then welded a bolt on it. The original backing plate plate with 20mm box wasn't big enough for this, the sides of the 'U's didn't come 'upright' enough, so I made a new plate with 1" box. It was Ok for a few, (16 actually) but if I was doing more I'd have put 20mm box inside to strengthen it as I could see the 1" box deform as I used it.
Now I had 16 'U's and I lined them up with equal sized legs next to each other, numbered them as pairs, etc. You can see the 'squared' original just behind them on the bench.
I welded the pairs of 'U's on using the actual weights to get the distances right between them. It needed enough space to get the lower weights out without fouling the one above, but also to conserve distance as I wanted to get all four pairs on one rig. It's finished in my special 'blue' that some people don't seem to like, but this colour matches my exercise bench and the abflex cushions... :-)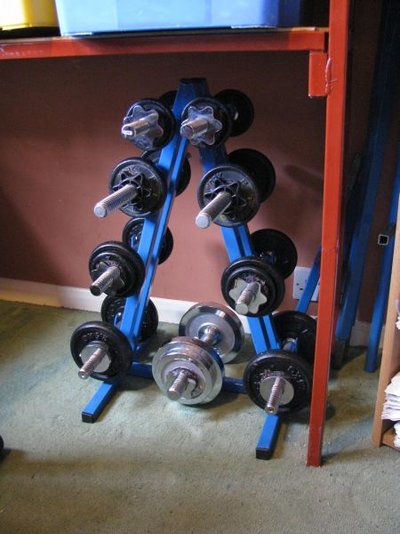 Finally a side shot showing the 'U's. I'd rounded each one off slightly at the top so there's less risk of me digging a hand or finger open as I grab the weights.
And yes, that's bits of carpet tile cut out on the pillar drill with a 1" hole cutter, then a 2" hole cutter to make a 'doughnut'. They act as a 'spring-washer' to keep the weights from coming loose. And if they do work loose then they don't 'clank' around so much while I finish what I'm doing!
Regards
Peter