Collected my consignment of three broken MIGs yesterday. This is the runt of the pack.
The current Sealey model is just a generic gas-less Chinese. The older Italian gas models were not bad hobby sets.
Two voltage settings giving 55 Amps and 90 Amps.
Most buyers won't understand the data plate, the implications and the fact it it an AC welder, no rectifier is present.
Much generic... cheapness. Transforming voltage down to low, useable Amps means using more expensive copper. Hence the 55 Amp 'low' setting, to save a couple of quid..
Inside. At least they've added a fan! A rectifier and inductor-free zone.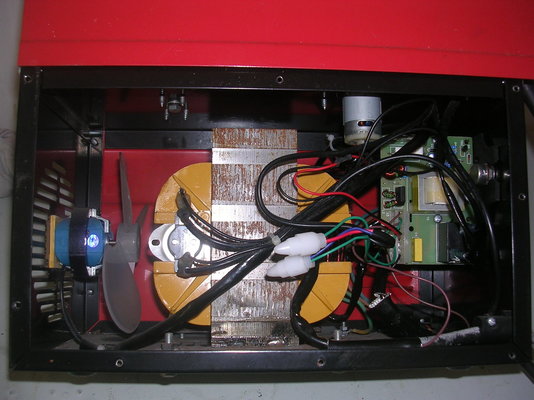 This is the result of a novice (my 17 year old son) using it on a 0.9 mm piece of car panel. I gave him some brief instructions.
TBH my attempt was not much better.
Imagine buying this for £160, full of enthusiasm, and trying to patch up, for instance, a Jap sill...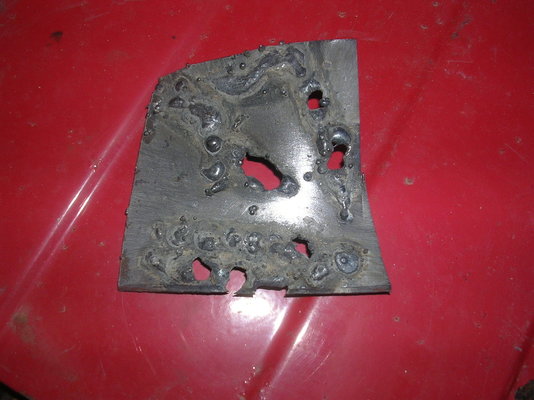 My son then had a go with a proper gas MIG welder, roughly set up, on some 2 mm exhaust pipe and he did the top bead.
The fault on this one was described as 'suspected motor or PCB relay'.
The PCB and components looked undamaged. As usual, the motor passed a PP3 battery test.
Powering it up, the relay could be clearly heard working. There was no welding voltage indicated.
Repeated trigger presses gave a brief hum after the relay had clicked, getting progressively louder / longer, as if the motor gearbox was locked or binding.
After a dozen triggers, something freed off and the toy motor then worked as normal.
And then another 'click' in my head happened ... I'd been measuring the OCV on DC (as one does).
When I changed the DVM to AC then welding voltages were indicated.