Introduction- I'm Phil from Kidderminster, Worcs.
Anyway, I've had an old Drummond roundbed for a few years, runs on an old single phase motor out of a scrap hydraulic pump at work, with a Peugeot Mi16 cambelt and an Audi tensioner.
So an opportunity came for what was described as a Colchester Dominion Student. However I have yet to find any pictures of a similar Colchester lathe anywhere on the web.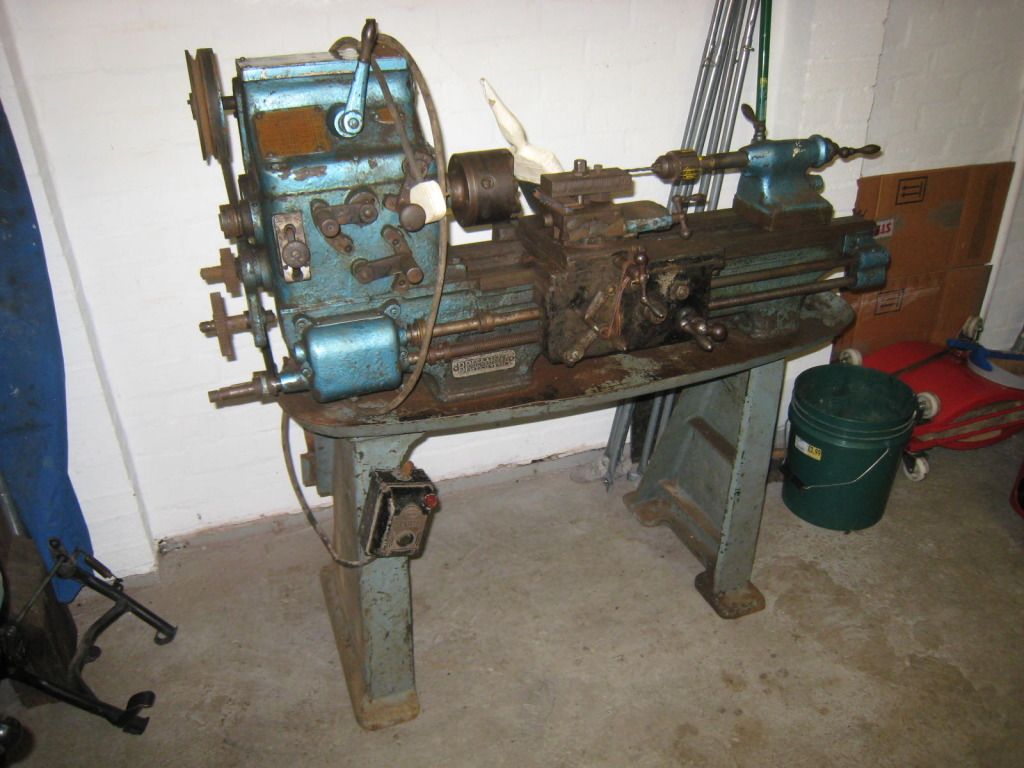 Once it was removed from the stand two of us lifted it onto a trolley and wheeled it from it's old residence to my trailer, tricky as this involved steps and a very mossy track, far too narrow for the trailer. Reassembly at my end was easy enough with the help of my old screw thread engine crane [old design, no hydraulics, works well]
The main issue then was getting the lathe down the side entry and into the shed at the back. I used some car dollies [car wheel sit in/on them and they have castors underneath] but this was tricky as they are only a couple of inches narrower than the path. Castors have a mind of their own!
It came with a good stash of cutting bits, drill bits, taps, dies etc along with a heavy British made Pillar drill.
There are more pictures here
http://s188.photobucket.com/albums/z143/oilphiluk/Colchester/
I'd welcome any observations on the model and history. I think it's probably about WW2. The plan eventually is to run it with a 3 phase motor and an inverter. There's no suds oil pump, no guard on the chuck, no guard on the belt!
I'm into my bikes and cars so it will get used for making small stuff mainly, and other projects as they come along
Phil