Too many projects not enough time!
Messages

514
Location

Hampshire
Ok so been on here a while and looked at some of the other mad projects on here so decided to actually document one of mine (there are many)
So ive had this dumper for about 12years now and its never let me down ive used it on loads of projects for friends and family and its paid for its self many times over.
What made me buy it intially was it was simple and had a PH1 petter that i am familiar with and had hydraulic tip that really is useful , its also quite compact so I can get it on a 14ft ifor williams with my digger too.
The first thing i did was convert it to electric start using a dynostart from an old american lawn tractor that i had lying around which to date has made it much less effort to use.
Its a Thwaites orline 2500 so basically 1 1/4 ton but im pretty sure ive put more than that in it , it has a proper dumper front axle with internal hydraulic brakes rated at way more than you could put in it
heres the beast
So the main issue i have is when I have ton bags delivered i really have no way of moving them unless placed on a pallet but moving with a pallet truck is a pain. Ive used the dumper by chaining round the back of the skip and through the bags then tilting the skip back but its not ideal as hardly any weight on back for steering and bag is only a few inches off the ground.
So i had an idea of taking the skip of and replacing it with a Jib of some sort that could lift the bag high enough and would bring it closer to front axle so much better weight distribution, and then my neighbour gave me this so I thought ah a forklift would be dead handy too!
The idea is to use whatever scrap I have lying around so it will only cost discs and gas
with the skip removed (need to weld on lifting eyes as sketchy) this is the area its all going to happen, i figure the ram should be more than powerful enough as its about 5" round and has never struggled tipping anything.
Next a spare RSJ thats never had a use yet 150mm by 90mm should be plenty
good test on how square bandsaw was cutting and it was pretty much dead on
Then make some bushes
Then make some side plates then weld it all together in the vain hope it all lines up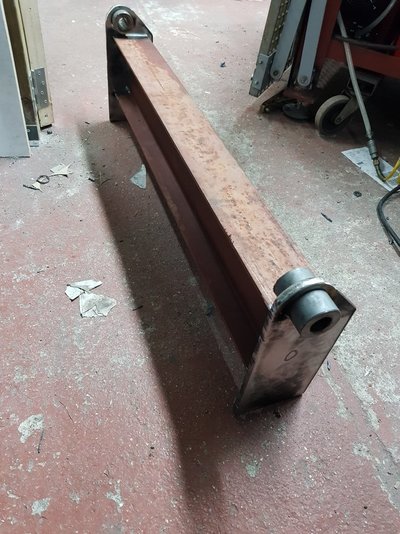 I did tack it all in place and actually lined up after !
TBC....