When looking at compressors I see some single and some twin cylinder. The twins have two pistons/cylinders, arranged in a ""V. Looking closer it's apparent that some of those are "twin pot" designs where the motor/crank is simply driving two pistons in cylinders of the same size, and they're both pushing air through a one-way valve into the tank, so look like this (it's an old example but shows the idea) :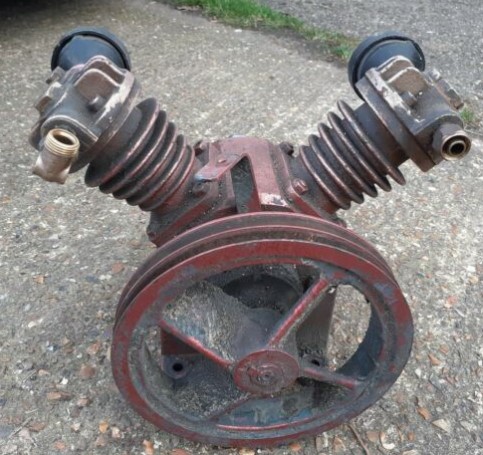 ...and others are "twin stage" where the two cylinders are different sizes, one small one large, and the larger one does a first stage of compression and pushes that air into the second cylinder, which has smaller cross-section and pushes the air up to a higher pressure, and then into the tank. They look like this :
Are these intended for slightly different tasks / usages ? It seems that the twin-stage would be good if you wanted really higher-pressure air, whereas the twin-pot would provide a higher volume but at a more 'normal' set of pressures - but I might just be reading things into this. Any preferences or thoughts on which is better for regular workshop use (spraying / air tools / small blast cabinet etc) ? or is there no real difference and they're just different ways of achieving the same results ?