Messages

9,192
Location

Swansea
work is still quiet so I have gone mad and ripped my stairs to pieces
What a laugh, a creaky step at the top, ages ago I screwed a couple of bits of steel strip as a temporary fix.
Two days ago I took them off and the whole step collapsed into a chasm of misery.
I confess I did resort to blasphemy regarding the sex lives of nuns
the step was hanging from a few rusted out nails and held up by a stick wedged in from below.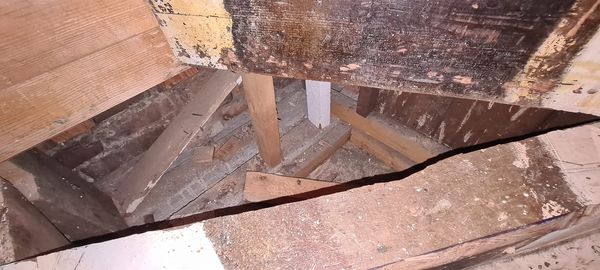 This has all been repaired and rendered sound.
Plan A was buy in some oak planking and do it myself cladding the whole staircase.
Too pricey so I bought in a kit of treads and risers in oak to do it myself. Cheaper and a lot less work
All I need to do is trim the steps to length and take a few mm of the backs of the treads and risers.
I have a pair of decent circular and compound mitre saws for the job. Both have very tired blades. Mitre saw for the cross cuts and circular for the rip cuts.
the wood is a kind of oak blockboard 20mm thick for the treads and ten mm plywood in effect for the risers. see picture below
I have a clamp on saw guide for the long cuts.
So blades? how many teeth and will the same blade be ok ripping solid oak and thin ply? for the mitre saw?
I imagine that cheap blades are a waste of money. Ideally Id like to get them from skrewfix if possible as there is one just down the road.
Any advice much appreciated as this is a bit of a spendy mission.
Thank you