Messages

1,689
Location

My mansion in Wales
Builders showing up unaccounced and not necessarily when I'm in has prompted me to get cracking on a set of gates (or firstly a set of posts for them). Occassionally
@8ob
does have good ideas, even if he doesn't always follow his own advice (ask him about the leaning tower of Bob...)

That suggestion is a set of rugby posts / H frame for the posts so that the cross-brace ties the posts together as well as serving as a conduit for cables etc. These posts will eventually have hydraulics added to open them automatically but for the moment having something across the top entrance will suffice. The top entrance is the smaller of the two into by place (the bigger one down the drive already has some gates although those will be replaced eventually), bear in mind that small is relative (especially in the context of this place)...
Anyway some steel (4x 7.5m lengths of 150x150x5mm box) was ordered by way of
CLH Trailers
, I know Chris and Andrew who run it quite well and they're quite happy to order and take delivery of steel for me and I can pick it up at my leisure. This is particularly helpful since last order I placed with Dyfed Steel I was messed around on the delivery a lot. They can also better their price quite significantly because of the sheer volume of stuff they get through and they cut out the middle man usually by going direct to the manufacturer (e.g. Tata). So the 6x6 had a little run down the road (only a few miles) to collect it.
The little tower suffered a bit but everything was nice and secure and took it nice and gentle on the return home. It's been sat around outside for a while but last week finally got off my backside to start cutting them to length.
Rather than trust my measuring abilities I decided it was more sensible to take a length to the entrance and mark it up / cut it there so I could visualise things. Don't particularly want to mess up the cuts since there's a lot of weight and cost in those bits of steel...
I'm always amazed by how much force you can put onto a set of pallet forks (thank you
@vwmark
).
And I'm certainly glad I upgraded the little dinky Kubota for something a little more capable - saves me manhandling the length into place manually.
Anyway some cutting was done (slightly worrying when an "offcut" is the same height as I am
)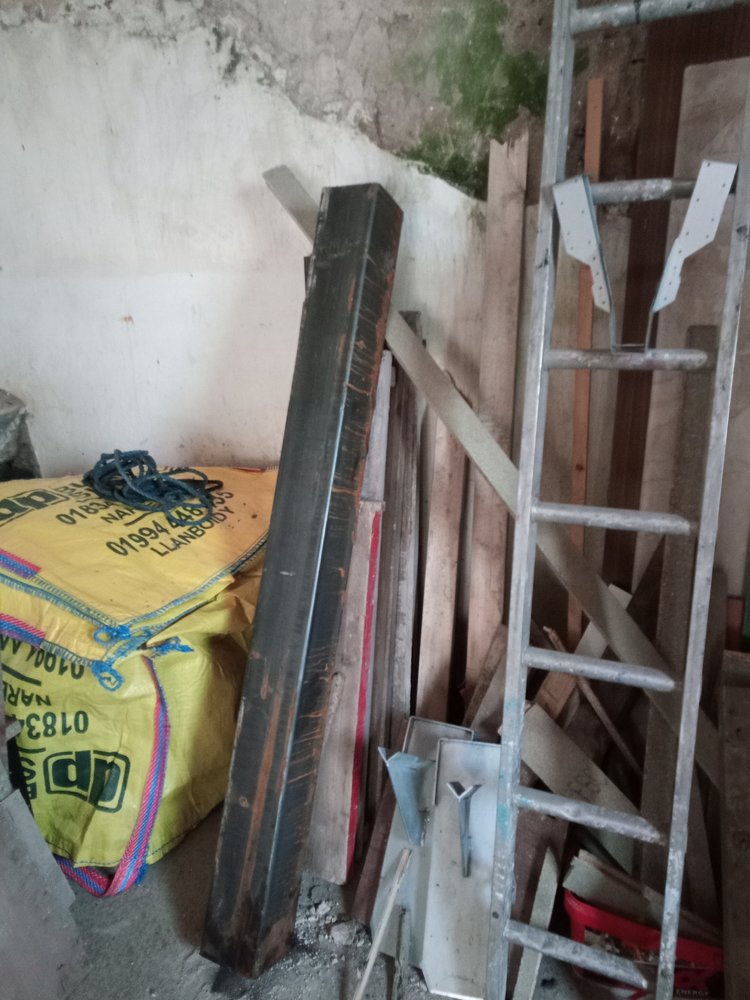 And the holes were duly inspected
And I'm extremely grateful for a nice flat floor even if there are no doors on it yet to make it a useful workshop.
And today I managed to find some time to go in and weld up the frame, between the posts is 19ft. Some feet and caps to go on to stop water sitting inside, lick of paint and then I'll figure out a way to get it out of the workshop and start digging up the drive to concrete them in - when the weather improves slightly.
I have inquired about getting them galvanised but fully welded up they'd require a double-dip in the tank so effectively doubling the cost which even before that happened would put it not far off doubling the price of the steel

. So paint it is, everything below ground will be concreted in anyway and the stuff above ground will be accessible for touch-up easily enough.
And an obligatory photo - reasonably happy with the way the welds turned out since it's the 4th time I've picked up the stick welder.
@8ob
- your 20 minute crash course has been very helpful. Still plenty of room for improvement but they're not coming apart which is the main thing.