Messages

6,095
Location

London
A few people on here have asked about my 26T Ford project so here goes, Its copied from another forum i'm on so hope it makes sense.
Just started collecting parts for a new project, Hopefully my 32 will be soon finished and I'm really getting the urge for some track action again, Was going to uprate my T but it would mean some major modification which would spoil the look to be honest so decided to start afresh. It goes to Finland nect week for the Helsinki show so maybe it won't come back ???
New project will be a street & strip car and as my T will have crossplys, Body will be channeled 4" over the frame but full height.
I've picked up a 26T Coupe body which will have a heavier duty version of my T chassis under it as the motor is going to be a Cadillac 500ci I picked up, I had a bit of luck as I was going to buy all the parts for the engine from MTS who are one of the Caddy experts but when I joined their forum I managed to pick up all the parts for the engine from a guy in the states as brand new parts still in the boxes 30% cheaper than new :-)
These engnes are very under rated and its quite easy to see 800bhp quite cheaply, There is a guy in the U.S. with the same spec as mine running 9.2 quarters with a Model A sedan !!!
According to Marty at MTS the motor should be making in the region of 600bhp @ 5500rpm & 700 odd ft lbs of torque @ 3000rpm (should be interesting on
crossplys)
Engine should end up at 500+ cubic inches and has the following spec
10-1 Keith Black +60 pistons
Scat forged rods
MT20 very lairy Cam
MTS Valve train conversion
MTS Heads
Edelbrock ported intake
Edelbrock EPS 830 carb
Full balance
Cloyes heavy duty timing chain
2" Headers
Art Carr TH400 with transbake (Thanks Crusty)
B&M 2200 stall convertor
My aim is to build a 60's style T again with Radir Tri ribs, Copper metalflake paint & a White fur interior !!! Hope to run very low 11's or maybe high 10's on crossplys, Maybe more on slicks.
A mate did a drawing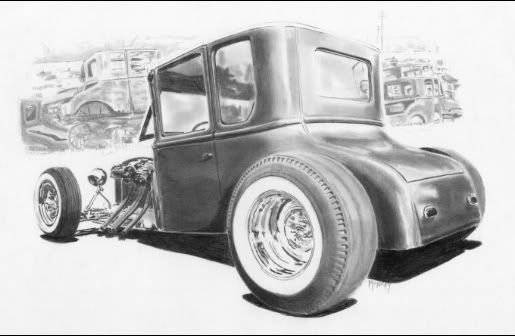 Picked up the body last night so here are a few pics, Its pretty good but there are a few things i will be changing. Ben the previous owner had a very nice Ash roof insert made but i'm not sure if i will be using it.
i have most of the parts for it now so won't be long before i can make start.
Ordered up the Stainless for the chassis yesterday, its going to be different from the norm.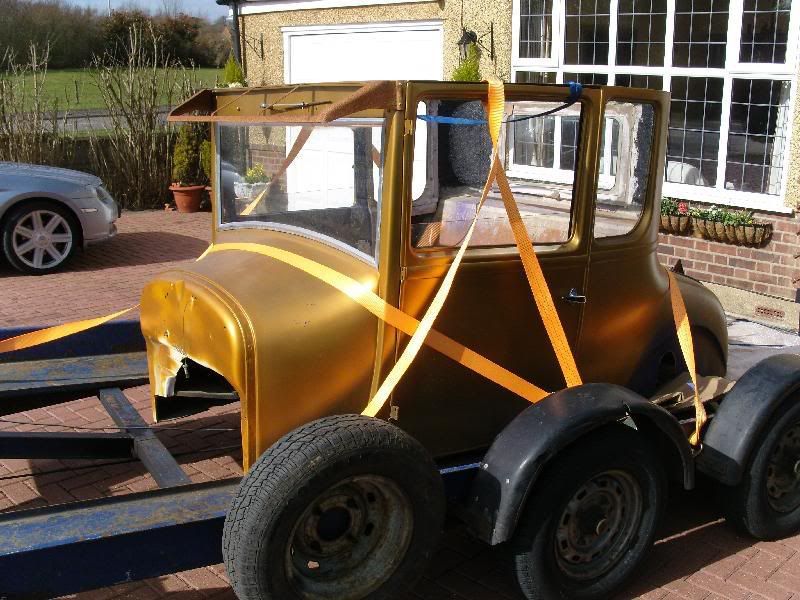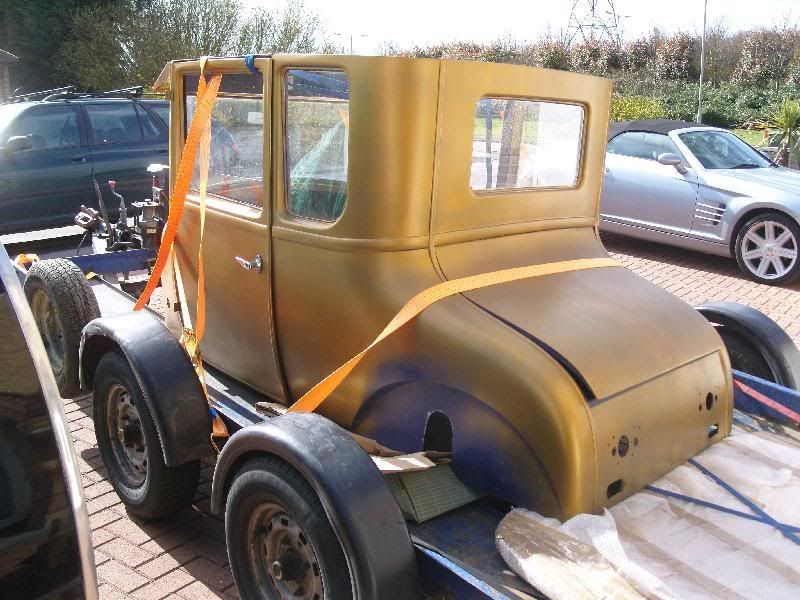 Did a bit on the 26T project today, Sue has been telling me to move the 6metre length of polished 100mm x 50mm stainless box from the side of the house, wasn't quite sure where to put it so decided to cut it up to size, I got a bit carried away and ended up making the side frame rails, still save having to do it later !!!
Its virtually ready for final welding so will probably pop over my mates in the week where I keep my chassis table and weld her up.
These are the sides for the front spring suicide perch, they are laser cut from 6mm stainless, thanks Paul
These are the front steering arms which were laser cut from 12mm stainless and then i drilled the graduated lightning holes.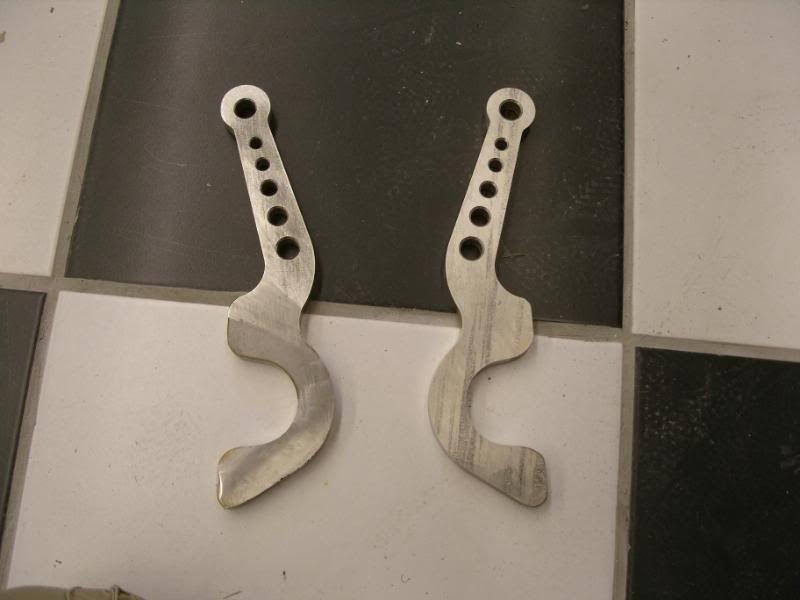 Here the side frame rails are marked out, the chassis design is the same as my 23T but i've goneup a size on the box as the Caddy motor has twice as much BHP and Torque as the 23T. The 100mm x 50mm looks very klunky on the front of a T so from the firewall forward will taper to 3".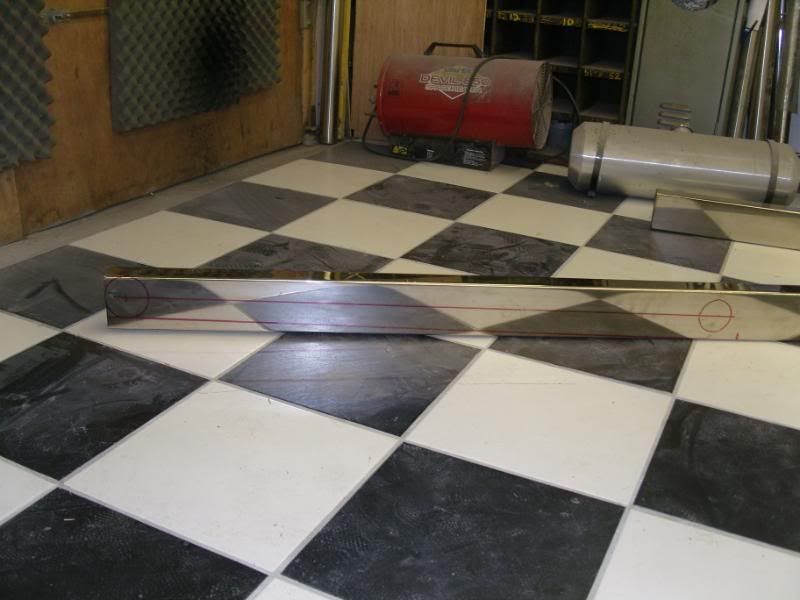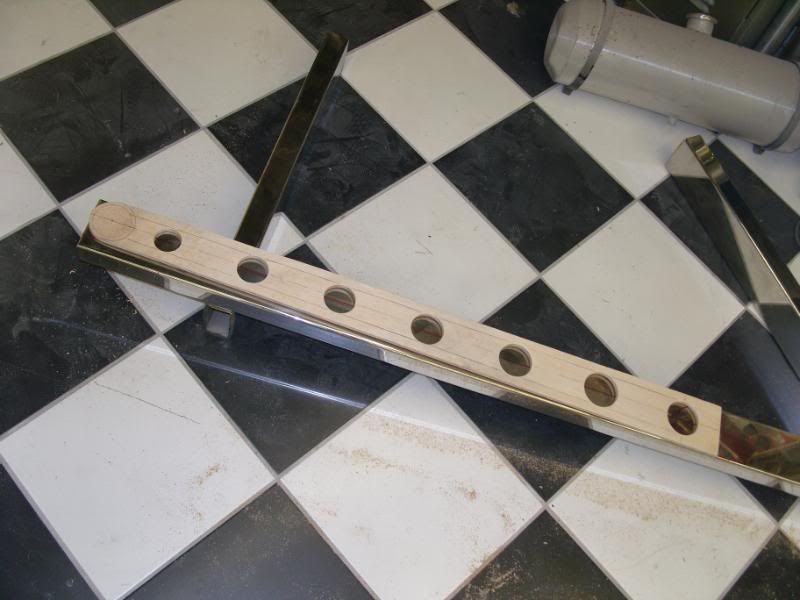 Once i had the side rails marked out it was time to get the 9" grinder out which was fitted with a 1mm stainless cutting disc and the sides were sliced. once i had finished cutting i noticed that the sides of the box had moved all over the place, this will be corrected with clamps before tack welding.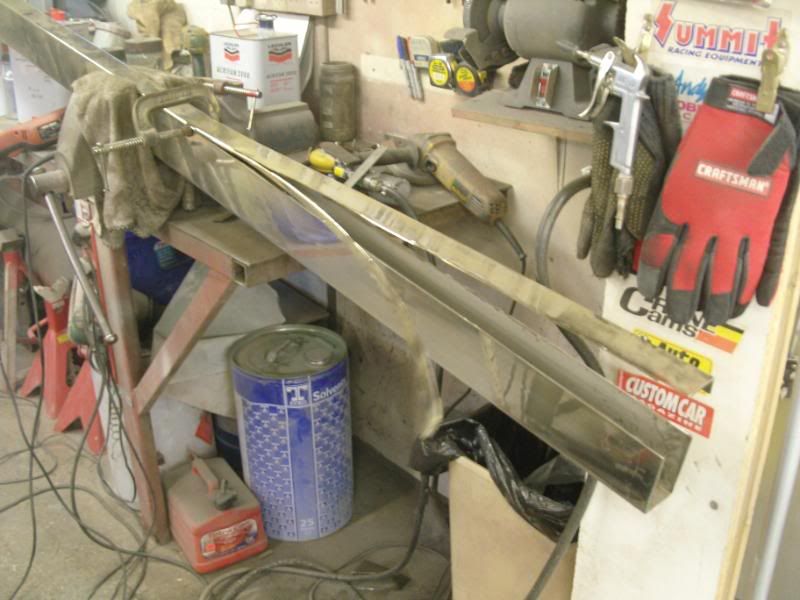 Here is the side rail being clamped back together and tack welded.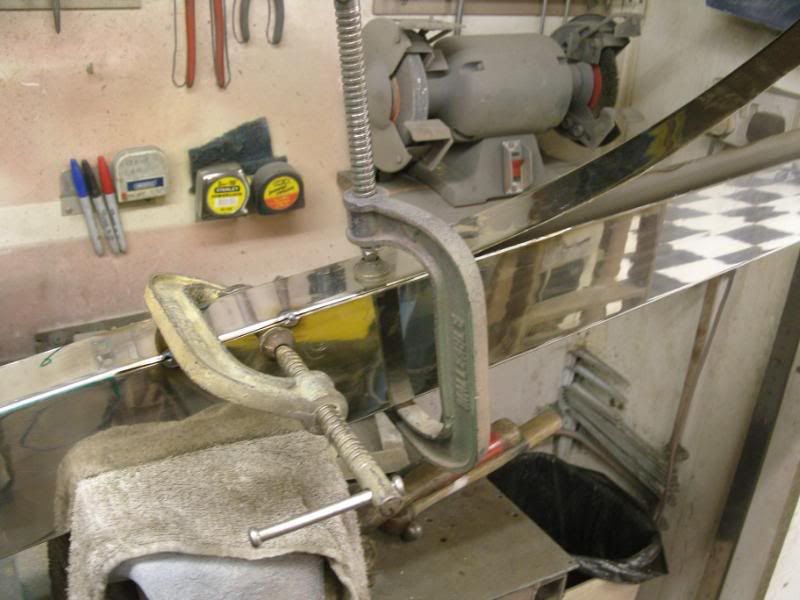 Here i'm marking out the lightning holes in the side rail, they are graduated to suit the taper and will be sleeved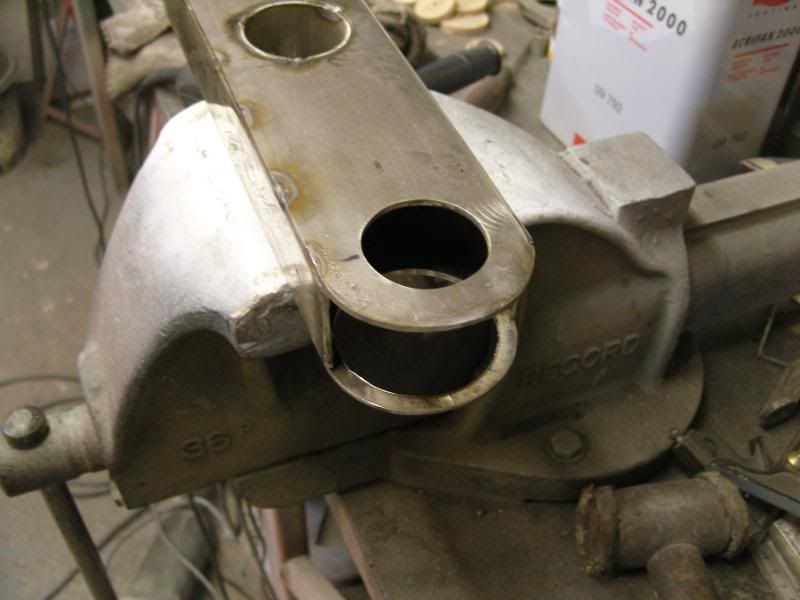 The front chassis horns are radiused and boxed off with 3mm plate that was curved with a 3" radius.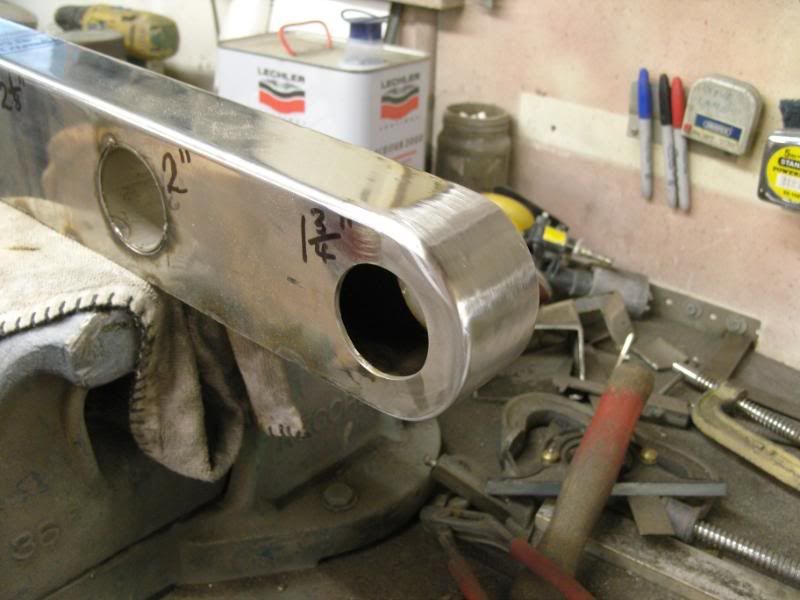 After TIG welding the curved plates in place everything was cleaned up ready for polishing.
Got the suicide front polished up so just need to TIG together tomorrow and polish out the welds.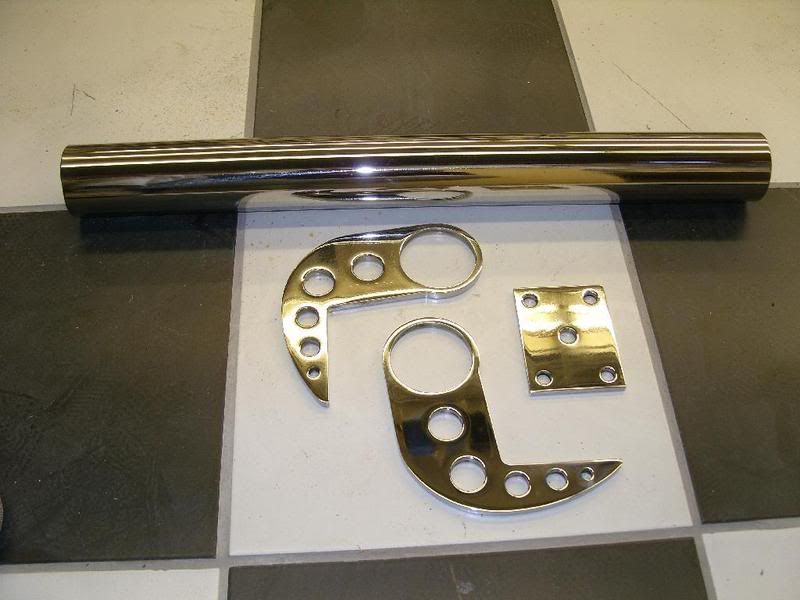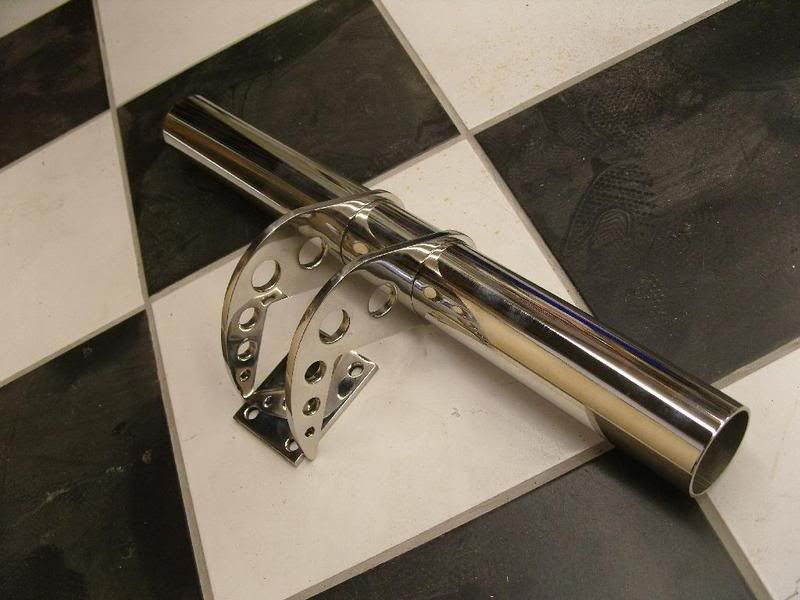 These are the other half of the engine mounts and the Trans mounts, And the engine steady bar.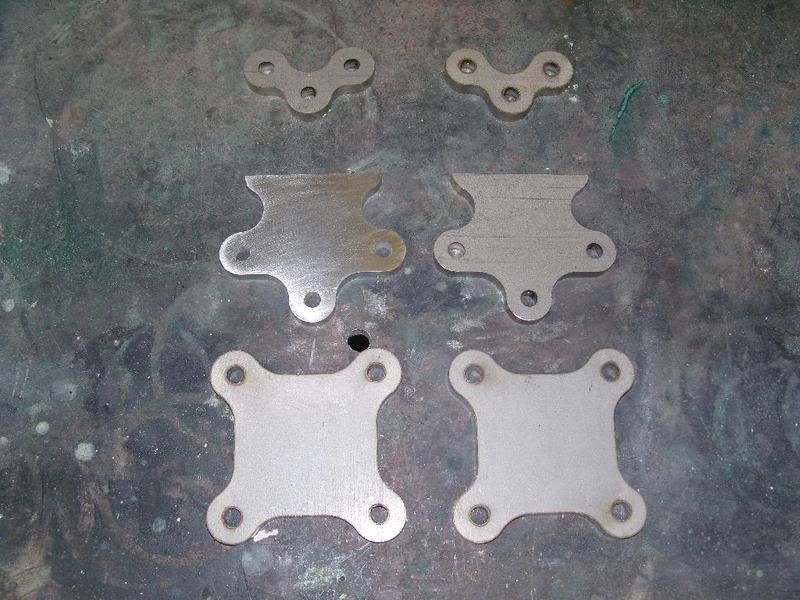 This is how the engine mounts go together, They will be TIG welded through the holes and then dummy rivets put in to cover the holes and give the look that they are rivetted in place.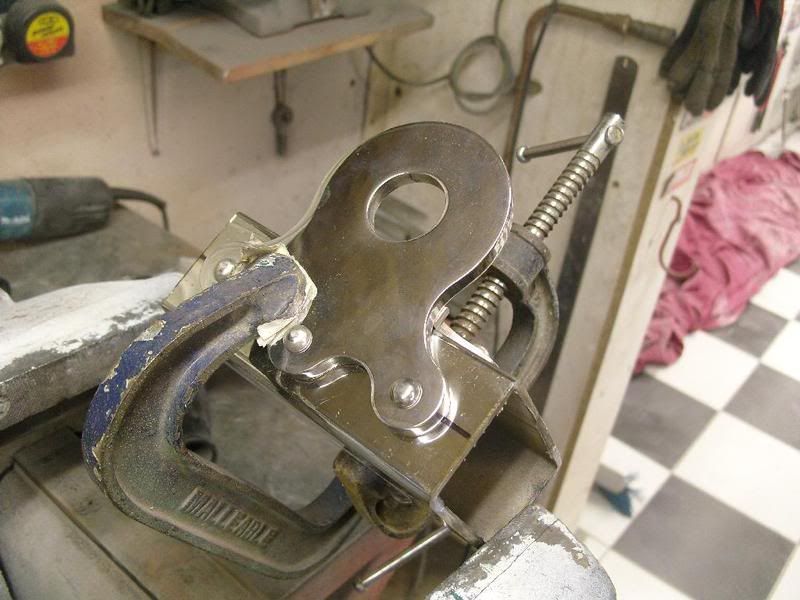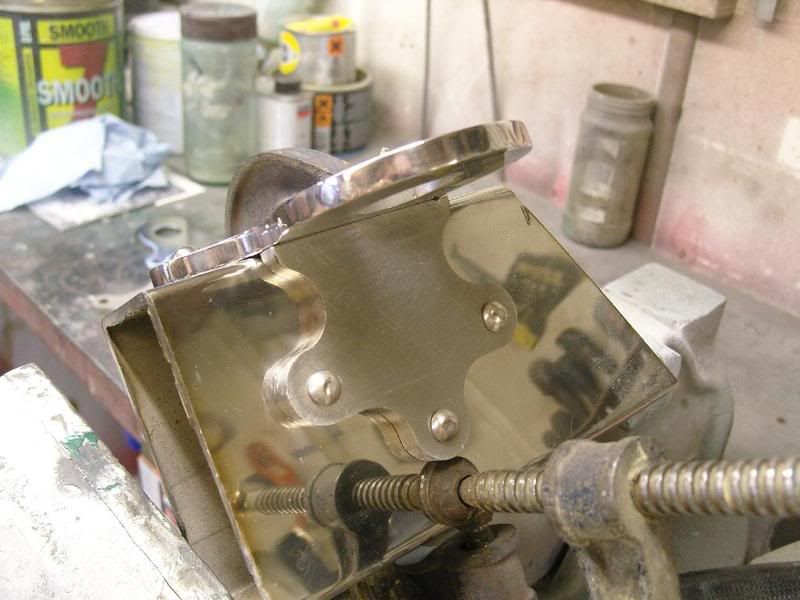 A bit more progress, The front spring perch and front chassis legs are finish welded and had a light polish. Next it will all be finish welded on the chassis jig.