Messages

864
Location

Sussex, England
Just finished today. Mirror polished, all stainless steel construction, with a waxed European oak shelf. Thar she blows...
Boy... was this a hard project for me! Wasn't a learning curve, so much, as more of climbing a sheer rock face, in terrible weather, with me teef.
(Learnt
a lot
though
)
The only TV stand I could find, that I even vaguely liked, was 300 + notes.
I know, I thought, I'll make me own out of stainless steel... and I'll use the project to learn some "design & construction techniques".
If I knew then, what I know now, I would have designed it differently. It's my first decent project with Stainless steel, polishing and TIG'ing. It was a long haul

, all considered, so I've managed to document only a part of it.
QCad for linux;
The stock was bought from Parker Steel. They had bright polished (B/Pol) the RHS (tube) but the flat section (FS) had only been sand blasted. So the first thing to do was polish it!
The polishing was done with a
Cibo Finimaster II
. It does do a really good job, but at a price.
Right... got me plan. Area is all clear & prep'd. Safety gear is on. Tools are game...
I had to make 6 dome ends for the 50mm O/D x 16swg RHS that I was using for the uprights and the feet. Using the same tube, cutting off 3 x 60mm pieces with an angle grinder and slitting them down the middle would give me enough for all 6 domes.
After, generally, flattening the pieces out, a line was scribed around (using an intact 50mm tube) to give me 6 circles. They were then cut out, carefully, with a 125mm angle grinder and 125mm Norton thin disc. The final profiling, to the scribed line, was done with a 125mm ceramic flap disc to get them fairly accurate.
Here the discs are placed in a
doming block
to ...dome them.
The domes were tacked onto the ends of the feet and then seam welded, leaving plenty of time for cooling down breaks. The domes had to be welded in now to add strength to the tubes for what was to come.
I had to make the sub-feet next (shown in pic below, from 32mm O/D x 16swg RHS). I wanted the option of castors or rubber stops so I needed a M10 thread (nut) welded to a washer, which in turn is welded to the "sub-feet.
These sub feet sections are cut with a Dewalt Metallica Chop Saw with a Jancy Slugger blade for stainless steel. I wanted the ends fairly square and the angle grinder wouldn't have given me such a good job as the chop saw.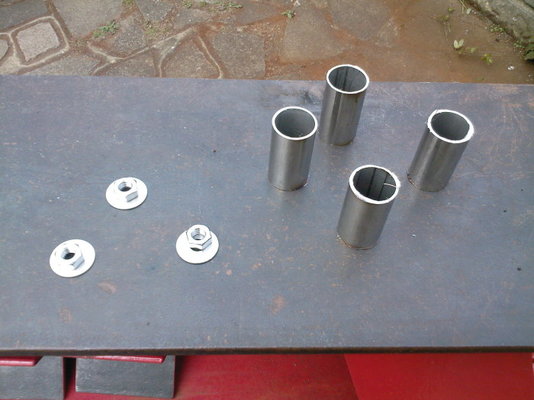 The 300mm feet (big tubes in pic) are intersected (@ 90 degrees) by the "sub-feet" so. Here you can see that each piece has to be; ground, smoothed & polished before it can be welded in

(only to start all over again on the new welds). These, of course, all have to be tacked first and then seam welded, leaving plenty of time between for cooling down breaks.
The holes were cut using a Starrett 32mm Bi-metal hole saw in a pillar drill. I kept the waste discs for the captivated nuts in the uprights.
Below, you can see one of the feet assemblies polished and completed, and the other just finished having been welded.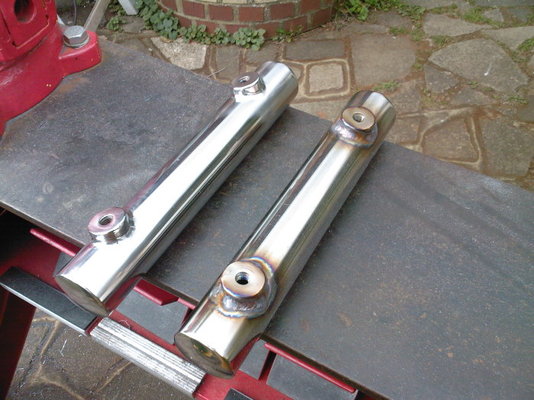 I wish there was more, but the project was so intensive & took so long, I forgot to take pictures towards the end.
The top tubes had a similar approach and had to notched using an angle grinder
to join up with the feet. The cross rails (50mm x 3mm F/S) were simply cut and the end sections were bent using a snap-on 34mm, 1/2" deep impact socket as a bending former in a vice (I knew I'd find a use for that socket eventually
), O/D plus spring-back = 50mm. More of the same welding and polishing procedures.
(in situ);
That's it. Thanks for looking!
Thanks to all the folks on this forum for helping me with; the captivated nuts, stainless steel, gas, buying and using a TIG, and also just generally putting up with me being a thorough nuisance!