back in black
Staff member
As Iv mentioned else ware I get involved in a fair bit of heritage work for the Victorian houses in the conservation areas, I never get involved in "new" gates'n'railings work as that is costed to the bone and undercut by everyone with a grinder and supermig.
First started off by buying a donor balustrade from around the same period (only 200 miles away!) apart from being the wrong shape, too low, too widely spaced and not enough parts it was perfect!
The frames were in some state once I cut the rivets dome nuts, and started cleaning the scrolls they were in pretty good shape a good 1/8 of paint on some, frames had lost some of there pins and were two packed together and a few of the scrolls had to be patched in.
After a few days of repairs media blasting and undercoating the nice work of reassemble could start.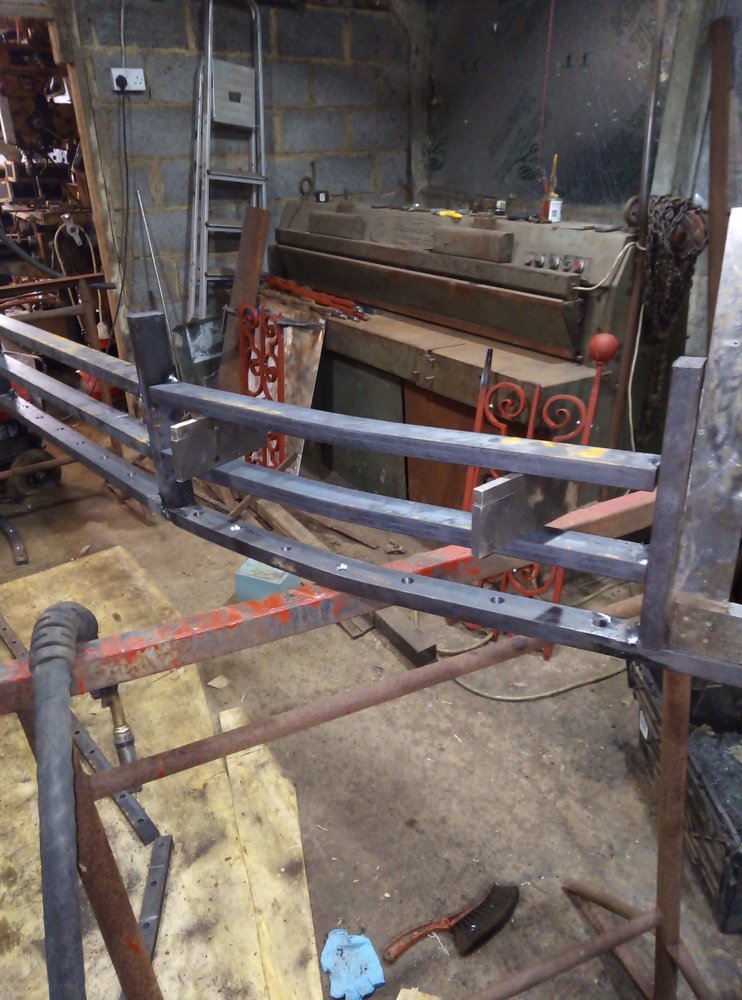 I wasnt really sure about adding this piece but I had to bring the frame up another 8" to be within part K, so I decided to add something art deco as a nod to the changes in the house, wasn't sure if it would work or not, everything is drilled and then plug welded into the main rails as I wanted to keep it looking as period plus the mechanicals of the old forgings are always question!
I had to mix in some new brundle parts but again shortened and turned down the ends as to avoid welds on show.
We took down this lovely 1990s build, secured in the sand and cermet cills on 2 rawl plugs
And banged the new one in on Saturday, we could have sold tickets a packed seafront 3 blokes and a telehandler is a good as TV it seams, clients now going to get the various rendering repairs done new gutters, get rid of them horrible plastic columns and then paint the whole lot, him and the neighbors all seamed happy with the work, walls going to be ripped out on the 26th then something similar to be done along the front.