If it walks like a duck....
Messages

15,688
Location

Carnoustie, Scotland
Last week I sold a load of things to get some funds together for a standby welder just in case my EWM Phoenix has a heart attack.
One of the things I sold was an R-Tech MTS255S which was very nice but it was just standard spray mig for Alu rather than Pulse and with using the EWM for the last year or so I wasn't keen on having to go back to standard spray.
So after a bit of searching and investigating I asked
@Tom Orrow L
if he had done any Alu with the Pocket Pulse, he hadn't but said he would give it a go and let me know how it performed and he also offered to send it up for me to trial out and see if it would be any use for me. It is a bit on the small side only being 185Amps so I wasn't too sure whether to take him up on his offer or not. Tom sent me a video and a pic of a weld he did the next day on some 3mm or possibly 1/8" angle and it looked good so I thought I might as well give it a go.
Today it arrived but I have been busy all day welding up a hopper so only got a chance to haul it out of the box this evening before I headed home.
First impressions were that it is nice and compact and looked well built.
The work lead doesn't fit via a dinse but rather just goes through a gland in the front and fits to a terminal via a ring, not a huge deal but could easily be adapted to a dinse if required by either fitting a dinse socket to the case itself or to keep the warranty probably making up a small lead with a female dinse on it would be the best option.
The wire feed is only 2 rollers so I wasn't sure how that would perform but in the brief test I gave it it seemed to work well. The Torch supplied however is quite short, I never measured but it can't be much more that 1.5m. Tom Also sent up a longer Parker torch but I have not tried that yet.
Ok so powered it up with the 0.8mm wire that was in it from Toms testing, the synergic line says 0.9mm or 1.0mm for Alu so it was set to 0.9 and when I cranked up the dial I was a bit sceptical that the max it said it would weld was as high as 6mm Alu, but when I set it up for 1.0mm wire and cranked it up I had a wee chuckle as it said it would do up to 14mm, aye right
Ok so back to the 0.9 settings and set it for 6mm and I grabbed a bit of 6mm from the scrap pile and gave it a blast, it was far too hot, I couldn't believe it. So I had a few more practice runs winding it down a bit at a time and 5.2mm seemed to be pretty good. I then fetched a new bit of 6mm Alu and did a run on the surface and then I welded a bit of 3" x 3/16" wall box to the plate as well.
I was very impressed, pic below.
I decided to etch it and see what it was like.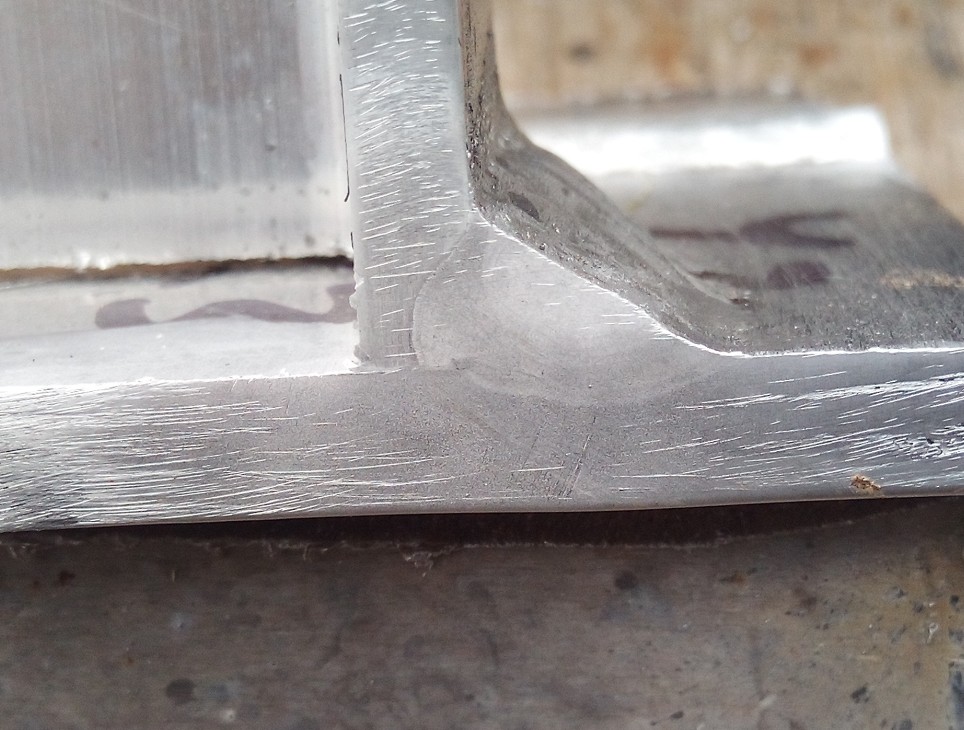 Looks pretty good to me especially from such a small welder.
The bad points for me are that it can not be used with a push pull or a spool gun although the latter may be possible if I take it out of pulsed mode. I will be trying it later on with the slightly longer (I think 2.5 or 3m) that Tom sent with it and if that is ok I will try it with the 4m MB36 I have.
I will also get some 1mm wire and see how it performs with that but on first quick testing it is looking promising.
If all goes well with the next lot of testing I will almost certainly be keeping it as a standby welder and will likely use it when in the workshop. I may also see about getting a 6m Kemppi Weld Snake torch as that would really extend its capabilities for the work I do, still not ideal as a push-pull would be better but as a standby welder it would be fine.